The Amazon Algorithm 🥇 7 ways to win the organic search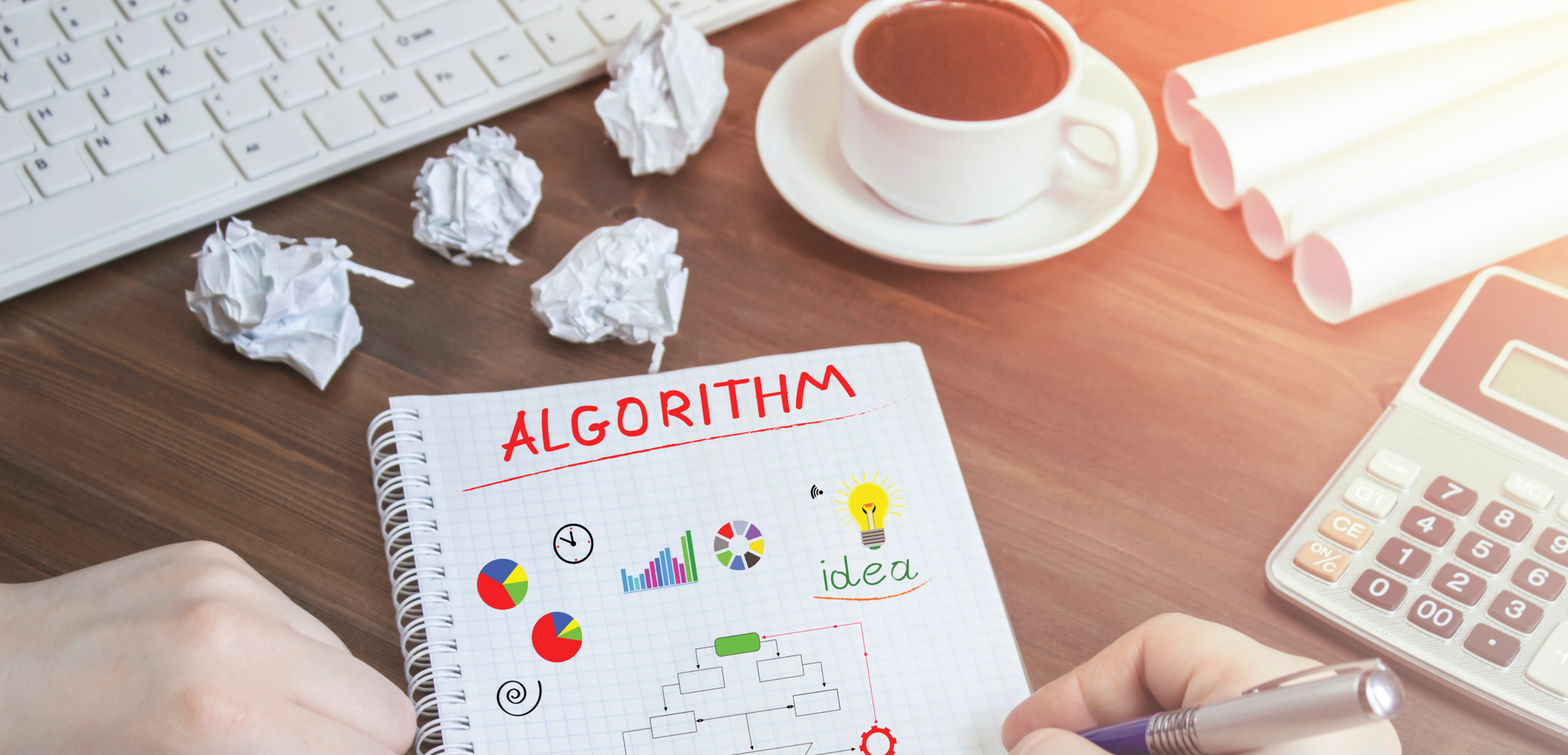 Have you ever asked yourself why some of your competitors' products are ranked better in the search on Amazon? This is all because of the Amazon algorithm.
The Amazon algorithm also called A9 is a search algorithm developed by Amazon to respond to the customer's query with the most relevant product the customer is searching for from the Amazon Catalogue. Meaning, A9 is basically determining the organic and paid search results that customers would see after they searched for a specific keyword.
Unfortunately, Amazon does not disclose all details or the precise calculation that their algorithm is taking into account to determine the relevancy of each product. But, Amazon points out some factors, e.g. Content and Pricing, that brand owners and sellers can optimize. Other factors such as Conversion Rate or the Sales Velocity are less manageable and more an outcome of an optimal product set-up and activation (e.g. through Sponsored Ads).
Below we collected the 7 factors that brand owners and sellers can influence in order to ready their products to achieve an attractive organic search rank: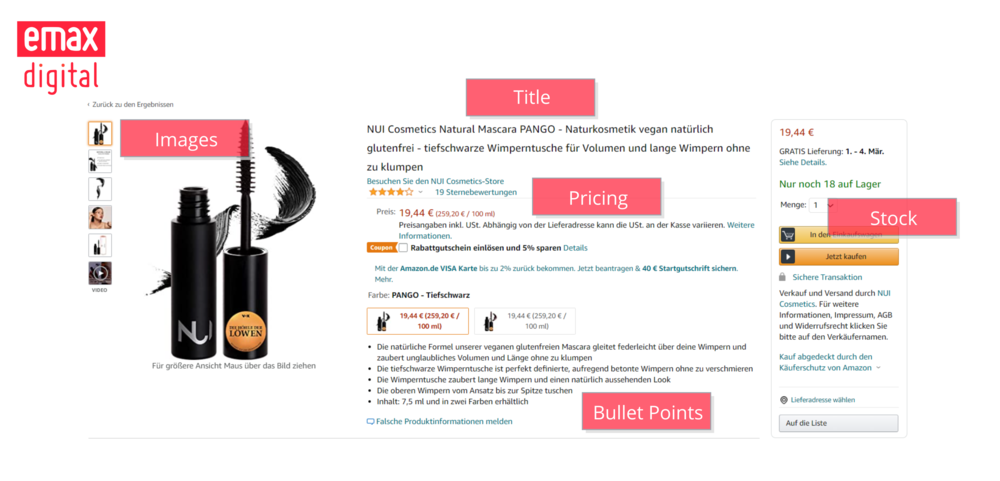 Image size and quality: The first impression in the search results makes the main image of your ASIN. Per Amazon's requirements it should show the product on white ground and ideally completely. On the detail page you should add more high quality images with distinct details of the usage and also additional lifestyle settings. Logos and visuals of distinct features encourage the customers to add the item in the cart and buy.

Product title: The title displayed on your product detail page is probably one of the most important factors for optimizing for search rank but also catching customers attention. The title should definitely include your most relevant search terms but also stay readable to the customer. It should mainly include the name of your brand, size, color and composition of the product. If your product has significant features for example waterproof, soundproof, long-lasting battery mention it in the title to gain customer's attention.

Bullet points/product features: Ideally your detail page includes up to 5 or more bullet points which should describe the reasons to purchase it. You do not have to add additional keywords since Amazon does not take duplicates into account.

Product description: In the product description the key features of the product can be explained in text. Since Amazon is restricting use of HTML and other features such as pictures we would recommend to keep it short and spend more time on A+ or Enhanced Brand Content.

A+ Content (Premium)/Enhanced Brand Content: If you have registered a brand in Amazon's Brand Registry you are entitled to display so called A+ or Enhanced Brand Content on your product's detail page. This is mainly a set of nice looking templates that you can use to highlight the product or your brand through additional graphics and texts. We always recommend doing so even if it is only a short paragraph or text that is already in the bullet points or just a logo of your brand. It is free of charge and having at least a minimum viable version does not take much effort.

If you are a vendor you might want to take your marketing game a bit further and opt for the premium version, which comes with better looking templates, interactive features and also the option to add video content. Since Amazon will charge for using the premium version you would want to use this only on your most prestigious products.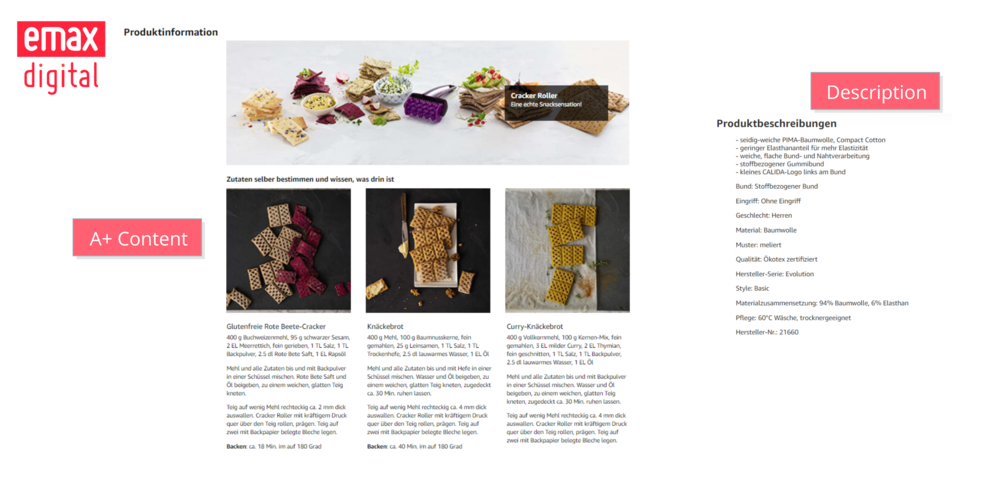 6. Product price: The price of your product greatly impacts the conversion rate and sales of your product. And through that, it also impacts the organic search rank. As a Vendor you do not have the consumer price under your direct control, but Amazon does. You can only influence pricing indirectly by allowing Amazon to source your product for a competitive price and by financing price-offs through Coupons and other deal mechanisms. As a Seller, pricing can be completely determined by the brand owner.
Regardless if you are a Seller or a Vendor on Amazon, on each detail page you will find the so called Buy Box which allows customers to purchase the product. As Amazon does not want the same product to be displayed several times in the search results, they invented the Buy Box. It summarizes all sellers that offer that specific product. Most products on Amazon are sold through more than one seller - and remember, Amazon itself is a Seller and also a competitor for the Buy Box too.And, like it or not, each seller might offer your product for a different price, competing with each other to be able to put their offer into the Buy Box. Although price is not the sole criteria to win the Buy Box, you would want to put a competitive price to your product to increase the chances of winning the Buy Box and hence the customer.
7. In-stock availability: Finally, a lever that is so obvious that one might forget about it easily. If your products are not in stock and hence not available anymore, Amazon's algorithm will probably not show your product in relevant search results anymore. Thus, once you put in all the hard work and your products show up in the organic search results, make sure to keep the product available.
It is not really easy to keep an overview over all these factors for the whole portfolio. That's why we build the Brand Dashboard in the emax.tool. It allows you to find out where you can start to optimize your product listings, which will result in a better rank in the organic search. Check out our other Blog entries for more information and tricks concerning your Amazon business or contact us at contact@emax-digital.com to get a product demo or an analysis of your current business on Amazon.